WitchLit is on a summer hiatus while we settle into our new WitchLit HQ and rather than leave a blank space in the feed, we're taking the old TV network approach and bringing you some summer reruns from our first two seasons. Today's rerelease is my conversation with Emma Kathryn. We talked about their then new book Witch Life and roaming the woods for mental health as well as that connection to the green world. She has a new book coming out in December 2023, Season Songs: Rediscovering the Magic in the Cycles of Nature, and has started a new podcast project, the Wild Witch Podcast, on Spotify.
Original show notes: Emma Kathryn was great fun to chat with. Her approach to writing, and magic, is practical and infused with her personal charm and wit. We also manage to squeeze some talk of baking — from the recipes in her book — into our chat.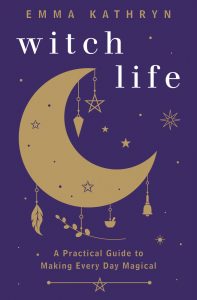 Show notes: 
Witch Life is available directly from Llewellyn or anywhere books are sold.
Find Emma
On her podcast: Lilith's Left Hand
On her website
On Instagram: @emmakathrynwildwitch
Please support Black-, indigenous-, queer- and women-owned, local independent bookstores.
Transcripts of all episodes are available to download
Follow WitchLit on Instagram and Twitter
Find Victoria at https://readvictoria.com and https://1000voltpress.com and on Instagram and Facebook