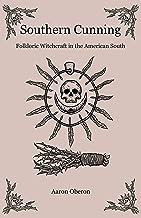 Content warning: brief mention of death threats received by the author.
Aaron Oberon joined me to chat about his contribution to Llewellyn's Complete Book of North American Folk Magic and his book Southern Cunning.
You can find purchase Aaron's work direct from Llewellyn and Moon Books. And follow him on Instagram. His artwork is also available from Etsy.
Please support Black, indigenous, queer, trans, and women-owned, local, independent bookstores.
Transcripts of all episodes are available at witchlitpod.com
Buy us a coffee (and support our work) on Ko-fi
Changing Paths by Yvonne Aburrow and Conjuring the Commonplace by Laine Fuller & Cory Thomas Hutcheson are both available from 1000Volt Press or to order wherever you buy books.
Pre-order Verona Green by Victoria from all the usual places. Autographed print copies of the book will be available to order after November 14 from 1000Volt Press.
Follow WitchLit on Instagram
Find Victoria at https://readvictoria.com and https://1000voltpress.com and on Instagram and Substack