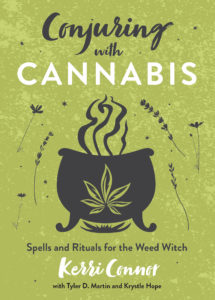 Weed witch, Kerri Connor joined me to talk about writing before she could spell, going from bookstore employee to published author, and the long history of working with cannabis as a plant ally and spiritual teacher.
Find links for purchasing books and where to follow Kerri on the relevant social media apps at her website.
Please support Black, indigenous, queer, trans, and women-owned, local, independent bookstores.
Transcripts of all episodes are available at witchlitpod.com
Buy us a coffee (and support our work) on Ko-fi
Changing Paths by Yvonne Aburrow and Conjuring the Commonplace by Laine Fuller & Cory Thomas Hutcheson are both available from 1000Volt Press wherever you buy books.
Follow WitchLit on Instagram
Find Victoria at https://readvictoria.com and https://1000voltpress.com and on Instagram and Substack