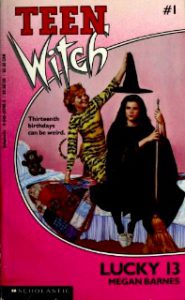 Dr. Angela Sutton found Teen Witch: Lucky 13 at a yard sale when she was a tween and convinced Gemma Snow and I we should read it and talk about it on the podcast. Some books, often random ones, leave outsized impressions on our memories.
Find out more about Dr. Sutton's historical work at her website. Follow her on Instagram for the historical facts behind Our Flag Means Death and use GPFANDF30 if you'd like to purchase her book Pirates of the Slave Trade for 30%.
Find out more about Gemma's work at her website. Follow her on Instagram for new releases. She also has a group on Facebook for launch events, giveaways, and chatting with other readers.
Please support Black, indigenous, queer, trans, and women-owned, local, independent bookstores.
Transcripts of all episodes are available at witchlitpod.com
Buy us a coffee (and support our work) on Ko-fi
Changing Paths by Yvonne Aburrow and Conjuring the Commonplace by Laine Fuller & Cory Thomas Hutcheson are both available from 1000Volt Press wherever you buy books.
Follow WitchLit on Instagram
Find Victoria at https://readvictoria.com and https://1000voltpress.com and on Instagram and Substack