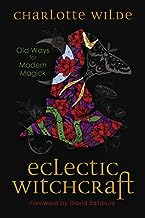 New author Charlotte Wilde joined me to talk about making the leap from Instagram creator to published author, why its important to have different kinds of 101 books available, and making time to write while running a business and a podcast.
Find Charlotte at the Eclectic Charge website or on Instagram, and listen to her podcast Cosmic Cauldron.
Please support Black, indigenous, queer, trans, and women-owned, local, independent bookstores.
Transcripts of all episodes are available at witchlitpod.com
Buy us a coffee (and support our work) on Ko-fi
Follow WitchLit on Instagram
Find Victoria at https://readvictoria.com and https://1000voltpress.com and on Instagram and Substack