Special Episode – A Very Cryptid Christmas panel
Content note: We're an explicit rated podcast but just in case you listen with littles or at work or something, this episode is pretty much writing about sex with monsters. Enjoy! Maybe with headphones.
Season 3 will start officially next week, with an interview with Storm Faerywolf.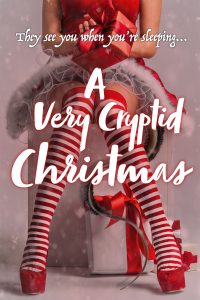 In the interim here's a special episode with 6 writer friends about our new anthology coming out October 18 with Moon Tan Press. D.S. Dane, Su Fertall, Gemma Snow, E.C. Spaur, Lulu M, Sylvian (previous guest) and Wednesday Wheeler joined me to talk about why we wrote stories about hot cryptic romance for Christmas/Solstice. D.B. Sieders (upcoming guest) couldn't join us but she got some words in from her family vacation. 
Yes, this episode is basically an ad but I was also honored to work with this group of writers, two of which have their debut romance stories published in this anthology, and I think you'll enjoy meeting them and finding out a little bit about why we all chose the cryptids we did in order to spread some hot holiday cheer. 
In the book you'll encounter a host of cryptids (and mythical creatures) with romance and/or hookups for everyone.
You can preorder the ebook on multiple platforms: https://books2read.com/u/bQPvJd
Print books will be available later this year (2022). 
Find more from these authors:
D.S. Dane:
website: www.dsdanebooks.com
newsletter: https://mailchi.mp/a177749718b3/dsdane
facebook: https://www.facebook.com/writerdane
Instagram: https://www.instagram.com/writerdane/
Pinterest: https://www.pinterest.com/writerdane/
Twitter: https://twitter.com/dsdane1
Su Fertall:
Instagram: https://www.instagram.com/bufeq/
D.B. Sieders:
website: https://dbsieders.com/
Gemma Snow:
website: https://gemmasnow.com/
E.C. Spaur:
website: (Writing as Elizabeth Spaur) http://elizabethspaur.com/
Lulu M. Sylvian: 
Facebook: www.facebook.com/lmsylvian
Instagram:  www.instagram.com/lmsylvian
TikTok: @lulumsylvian_author
Amazon Author Page: amazon.com/author/lulusylvian
Bookbub:  https://www.bookbub.com/profile/lulu-m-sylvian
Goodreads:  https://www.goodreads.com/LuluMSylvian
Website: http://lulumsylvian.com
Newsletter:  http://lmsylvian.com/newsletter
Wednesday Wheeler: 
Instagram: https://www.instagram.com/wednesdaywwheeler/
Please support Black, indigenous, queer and women-owned, local independent bookstores.
Transcripts of all episodes are available to download
Buy us a coffee (and support our work) on Ko-fi: https://ko-fi.com/witchlitpodcast
Follow WitchLit on Instagram and Twitter
Find Victoria at https://readvictoria.com and https://1000voltpress.com and on Instagram and Facebook