Not one, but two, new authors who've put together an excellent opening to a series of training materials for new witches and old hands alike. Irena and Caine are a delight and we all wrangled time, space and traffic to make this episode happen. Caine was in his car for the recording so you might hear some extra ambience in this episode. 
Show notes: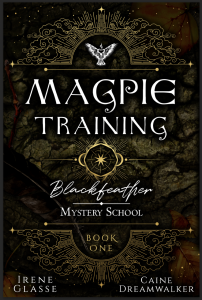 You can purchase your copy of Blackfeather Mystery School: The Magpie Training wherever books are sold. 
Find The Black Feather Mystery School and Irene and Caine
On their website: BlackfeatherMystery.com
On Facebook: https://www.facebook.com/Blackfeather-Mystery-School-548947669377633
And you can read Irene's blog at: GlasseWitchCottage.com
Please support Black, indigenous, queer and women-owned, local independent bookstores.
Transcripts of all episodes are available to download
Join us on Patreon for early access to episodes, opportunities to submit questions for guests, discounts, and more.
Follow WitchLit on Instagram and Twitter
Find Victoria at https://readvictoria.com and https://1000voltpress.com and on Instagram and Facebook