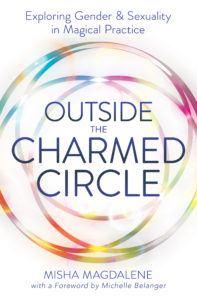 Come for the geeky conversation about gender studies and queer theory; stay for the pop cultural references and the snark. I had the best time talking writing, politics, and life with Misha Magdalene.
Where to find Misha:
Website
Facebook
Mastadon
Buy the book
Her former blog
Note: Misha and talked at the end of November last year,  months before the Tennessee legislature passed its anti-trans bill. I support trans people, of all ages, to live and enjoy their best lives as the people they truly are. Trans people existing isn't a crime and laws that attempt to make it so are fascism.
Please support Black, indigenous, queer, trans, women-owned, and local, independent bookstores.
Transcripts of all episodes are available at witchlitpod.com
Buy us a coffee (and support our work) on Ko-fi
Follow WitchLit on Instagram
Find Victoria at https://readvictoria.com and https://1000voltpress.com and on Instagram and Substack