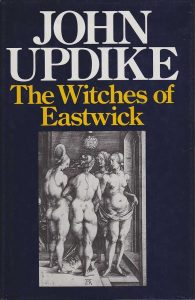 Happy Halloween, Samhain, All Hallows Eve! As an extra treat AJ Scudiere and I discuss the The Witches of Eastwick. And give our takes on the good, bad and the ugly of this classic book of WitchLit.
Where to find AJ: 
On the web:
https://www.readajs.com/ or
https://www.savannahkade.com/
On social media:
https://www.facebook.com/ReadAJS/ and
https://www.facebook.com/ReadSavannahKade
Please support Black, indigenous, queer, women-owned, and local independent bookstores.
Transcripts of all episodes are available at witchlitpod.com
Buy us a coffee (and support our work) on Ko-fi
Follow WitchLit on Instagram and Twitter
Find Victoria at https://readvictoria.com and https://1000voltpress.com and on Instagram and Facebook