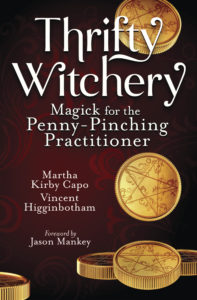 Martha and Vincent share their writing process of getting Thrifty Witchery into the world. More importantly, they illustrate how having a trusted writing partner can make you a better, and a braver writer. Oh, and the book is brilliant and probably not what you think.
Thrifty Witchery is available direct from Llewellyn or anywhere books are sold.
Find Martha at the Corner Crone, on KPPR Pure Pagan Radio, and on Instagram.
Find Vincent at his website with links to all socials and other books.
Please support Black, indigenous, queer, trans- and women-owned, and local independent bookstores.
Transcripts of all episodes are available at witchlitpod.com
Buy us a coffee (and support our work) on Ko-fi
Follow WitchLit on Instagram
Find Victoria at https://readvictoria.com and https://1000voltpress.com and on Instagram and Substack