Margaret and I chat about her writing, and her podcasting, and her music, and anarchism, but mostly about writing and her excellent book A Country of Ghosts and the Danielle Caine series of novellas. There may have been fangirling.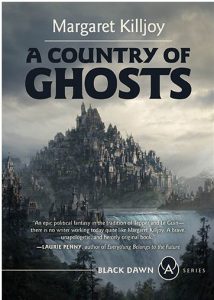 Margaret's work is available wherever books are sold. A Country of Ghosts is available directly from AKPress and you can preorder We Won't Be Here and Other Stories. 
Find Margaret
At her website: https://birdsbeforethestorm.net
On her podcast Live Like the World Is Dying
On her other podcast Cool People Who Did Cool Stuff
On Twitter: @magpiekilljoy 
Please support Black, indigenous, queer and women-owned, local independent bookstores.
Transcripts of all episodes are available to download
Join us on Patreon for early access to episodes, opportunities to submit questions for guests, discounts, and more.
Follow WitchLit on Instagram and Twitter
Find Victoria at https://readvictoria.com and https://1000voltpress.com and on Instagram and Facebook