Karen Dales and I talk about the work of collecting and editing a short story anthology and what she's learned about writing in the process.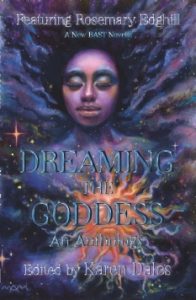 Show Notes:
Dreaming the Goddess is available anywhere books are sold.
Purchase links available at Dark Dragon Publishing.
You can connect with Karen on her website
Facebook: https://www.facebook.com/KarenDalesAuthor
Twitter: @karendales
Goodreads: https://www.goodreads.com/author/show/2920300.Karen_Dales
Submission Guidelines for Dark Dragon Publishing: http://darkdragonpublishing.com/submissions.html
Please support Black, indigenous, queer and women-owned, local, independent bookstores.
Transcripts of all episodes are available to download
Follow WitchLit on Instagram and Twitter
Find Victoria at https://readvictoria.com and https://1000voltpress.com and on Instagram and Facebook